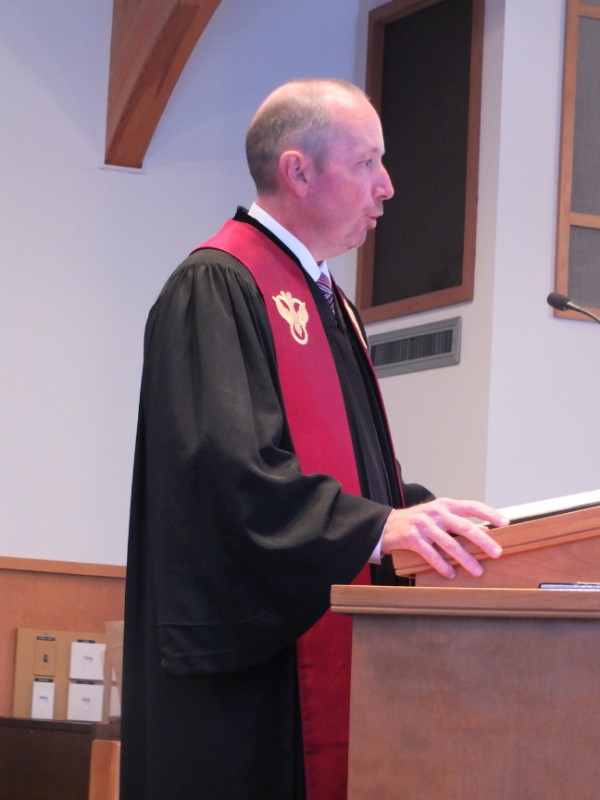 Pastor
-
Nathan Parrish

336-765-7731
Nathan is a native of Zebulon, NC and attended Wake Forest University where he earned a BA in Philosphy and an MA in Religion. He also holds a Master of Divinity from Southeastern Seminary. Nathan has been in ministry as a pastor since January of 1992 - first serving at Unity Baptist Church of Winston-Salem (1992-2002) and now at Peace Haven Baptist Church of Winston-Salem (2002 - present).

"I believe the New Testament presents the local church as the primary public witness to the will and work of Jesus Christ and and that the local church lives as the principal community through which Jesus Christ continues to make disciples. Making disciples - followers of Jesus Christ - people who share the passion and priorities of Jesus Christ for the Kingdom of God - is the primary mission of the church. Christian commitment is personal but not private. You are welcome at Peace Haven Baptist Church and I encourage you to come and see!"

---
Pastor Emeritus
-
Ray Benfield

Ray Benfield served as the first pastor of Peace Haven Baptist Church from 1957 until 1969. Ray and his wife, Evelyn, returned as members here in 2007. We are thankful for their place in the heart and life of our congregation.
---
Organist/Choir Master
-
LeAnn Steele

LeAnn was born in Allentown, PA and was raised in Pompano Beach, FL. She landed in Winston-Salem in August 1973 when she enrolled as a student at Salem College. She began her journey as a musician at a young age when she started playing the organ at age eight and performed at her first wedding at age 12! LeAnn earned a
Bachelor of Music from Salem College with a major in Music Education with concentration in piano.
LeAnn has had a long career at Wake Forest University. First employed in 1977, LeAnn has held positions in several departments and has been the Registrar of the Wake Forest University School of Law since 1987. Professional affiliations include:

National Network of Law School Officers (NNLSO), member since 1988;

American Association of Collegiate Registrar's and Admissions Officers (AACRAO), member since 1988.
LeAnn has been Peace Haven's Choir Master since June 1997 which includes directing the adult choir and sharing her talent as Peace Haven's organist. She held several other roles prior to her current position and will celebrate 25 years of service at Peace Haven this year.
LeAnn is the widow of Tom Steele who taught Peace Haven's "Seekers" Sunday School Class. She has four sons, Rob, Ryan, Chris and Justin, and a daughter-in-law, Juli. She also shares her home with her three dogs, Deac, Scooter, and Bella!
---
Pastoral Assistant
-
Faria Armstrong

336-765-7731
Faria is from Charlotte and a graduate of both Central Piedmont Community College (Associates degree, Business Administration) and Belmont Abbey College (BA, Business Management). She is in her second year at Wake Forest School of Divinity.
---
Pastoral Assistant
-
Raven Hill

336-765-7731
Raven is from Kannapolis and is a graduate of East Carolina University (BS, Urban and Regional Planning and BA, Political Science). She is in her second year at Wake Forest School of Divinity.
---