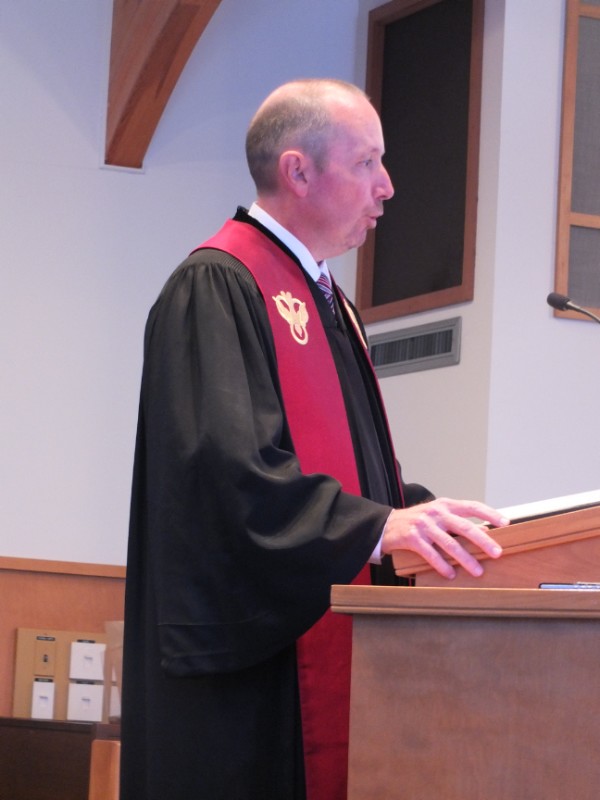 Pastor:
Nathan Parrish

336-765-7731
Nathan is a native of Zebulon, NC and attended Wake Forest University where he earned a BA in Philosphy and an MA in Religion. He also holds a Master of Divinity from Southeastern Seminary. Nathan has been in ministry as a pastor for more than 24 years, 14 of which have been spent at Peace Haven. He has interests in community issues most notably in concerns around education and racial reconciliation. He is involved in several community groups and serves as a Board member of the ECHO Council and Missionary Family Counseling. He is a regular volunteer tutor at Mineral Springs Elementary and has partnered with the Children's Home to provide one-on-one mentoring for teen residents. Nathan has a personal affiliation with the Alliance of Baptists. He loves to play golf and attend Wake Forest sporting events when possible. He has been married to Lisa Parrish for 25 years.

---
Pastor Emeritus:
Ray Benfield

Ray Benfield served as the first pastor of Peace Haven Baptist Church from 1957 until 1969. Ray and his wife, Evelyn, returned as members here in 2007. We are thankful for their place in the heart and life of our congregation.

---
Organist/Choir Master:
LeAnn Steele

LeAnn was born in Allentown, PA and was raised in Pompano Beach, FL. She landed in Winston-Salem in August 1973 when she enrolled as a student at Salem College. She began her journey as a musician at a young age when she started playing the organ at age eight and performed at her first wedding at age 12! LeAnn earned a
Bachelor of Music from Salem College with a major in Music Education with concentration in piano.
LeAnn has had a long career at Wake Forest University. First employed in 1977, LeAnn has held positions in several departments and has been the Registrar of the Wake Forest University School of Law since 1987. Professional affiliations include:

National Network of Law School Officers (NNLSO), member since 1988;

American Association of Collegiate Registrar's and Admissions Officers (AACRAO), member since 1988.
LeAnn has been Peace Haven's Choir Master since June 1997 which includes directing the adult choir and sharing her talent as Peace Haven's organist. She held several other roles prior to her current position and will celebrate 25 years of service at Peace Haven this year.
LeAnn is the widow of Tom Steele who taught Peace Haven's "Seekers" Sunday School Class. She has four sons, Rob, Ryan, Chris and Justin, and a daughter-in-law, Juli. She also shares her home with her three dogs, Deac, Scooter, and Bella!
---
Darrell Hamilton

I am from Oklahoma City, OK born and raised and entering my second year of Divinity School at Wake Forest. I take pride in surrounding myself in diverse places with diverse people in order to gain a wealth of diverse experiences. In so doing, I am currently working with the IDR, which Peace Haven Baptist Church is a partner of, as a summer internship in order to learn more about social justice and community engagement. Moreover, I am working with Wake Forest University in a new position as an Event Resource Manager in order to fine tune my leadership, team building, and program creation skills. I am very excited and eager to begin my work at PHBC because this opportunity gives me the chance to reclaim some of my spiritual life and connection with God that has been downplayed throughout the years. Also, PHBC affords me a new opportunity that I never had before in my home church which is to be engaged with a church and a community of believers that understands it's significance and impact to and for the flourishing of the greater society in practical and not just spiritual terms. My intention is to begin this journey starting in August once my commitment to the IDR is complete, and I anticipate a long, healthy, and successful experience with PHBC for several years to come.

---
Andria Williamson

Greetings Peace Haven Baptist Church! My name is Andria Williamson and I am your new Pastoral Assistant. I am very excited to not only begin exercising my duties, but also getting to know each of you. I have to say that each time I have visited and worshiped at Peace Haven, you have all been extremely welcoming and have helped me to feel right at home. Words cannot express how wonderful it feels to walk into a new environment and be immediately showered with love. Thank you! This summer, I have been exposed to so many wonderful opportunities, including: Curriculum Building at New Zion Missionary Baptist Church and a Chaplaincy Internship at Moses Cone Hospital, both in Greensboro. Since the start of summer, I have noticed a certain trend of being face to face with the suffering of humanity and being able to identify and respond to the needs of others--spiritual or not. On a personal note, I enjoy spending time with family and friends. I also enjoy eating amazing foods and listening to live jazz. Again, I am so happy to be a part of this wonderful community and I look forward to sharing and growing with each of you. See you soon!
---